The Digital Human Library is a proud sponsor of A Kids' Guide to Canada – creating a way to connect all of the elementary students in Canada, and for them to contribute to Canada's 150th birthday in 2017 in a lasting and very meaningful way.
In creating the content for a children's interactive guide to Canada, our goal is to help our youngest Canadians to get to know each other, work together, and create a new culture of mutual understanding, empathy, and respect for all Canadians – with a special invitation to participate to students living in
* marginalized or impoverished parts of our country,
* English and French language minority communities, and
* our three official Indigenous nations: First Nations, Métis, and Inuit.
All activities will take place in both French and English, with Indigenous and New Canadian students encouraged to provide content in their own native languages wherever possible.
While "A Kids' Guide to Canada" was not selected as a National Signature Initiative for Canada150, tweets like this one have caught the attention of passionate and innovative educators from coast to coast.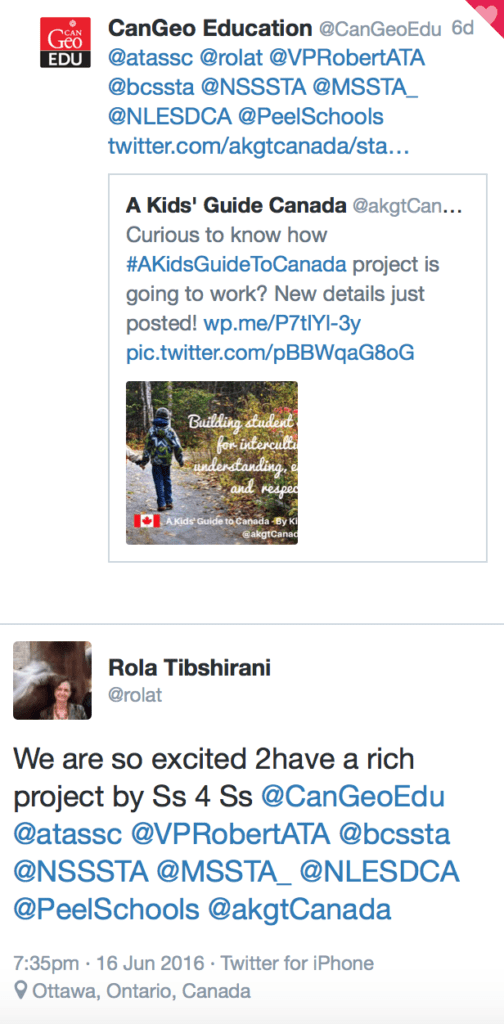 This grass-roots initiative has begun to inspire educators across the entire country, and interest and support is appearing from
individuals, businesses, and organizations from coast to coast.
All new endeavours face endless new challenges, however we are prepared to deal with whatever obstacles stand in our way.
We have a vision of children and teachers in every part of Canada having the chance to learn, connect, collaborate, create, and actively contribute to a better future for all Canadians. And that makes every ounce of effort and struggle to bring this project to life exceptionally humbling and completely worthwhile.
PROJECT GOALS:
The "A Kids' Guide to Canada" project aims to:
1. Provide an authentic and meaningful way for Canadian children to contribute to Canada's 150th birthday celebrations – to learn about, celebrate, and share their home communities with the rest of Canada, focusing on the Canada150 theme: "Strong, Proud, and Free."
2. Provide an opportunity for all Canadian elementary students to use their voice – to truly collaborate in the project's creative process, design, and produce a new kind of interactive guide to Canada made by children and for children.
3. Provide a means for elementary teachers and students of all cultural and socio- economic backgrounds to connect for learning – with a special focus on valuing and connecting marginalized, minority, Indigenous and non-Indigenous students with their peers.
[TRC Call to Action 85 ii ]
4. Foster a culture of mutual understanding, empathy, respect, and collaboration amongst Canada's future generation – to help school children create personal relationships with their peers across Canada to help dismantle limiting and outdated cultural stereotypes in Canada.
[TRC Call to Action 63 iii ]
5. Support teachers across Canada implementing new pedagogies for connected learning, and developing new cultural competencies needed for teaching effectively in a global classroom, especially as these relate to helping our students learn about, from, and with their diverse Inuit, First Nations, Metis, Anglophone, and Francophone peers.
Truth and Reconciliation Commission Calls to Action
#63 iii building student capacity for intercultural understanding, empathy, and mutual respect.
#85 ii continue to develop media initiatives that inform and educate thE Canadian public, and connect Aboriginal and non-Aboriginal Canadians.
LEADERSHIP:
* All components of this grass-roots project are being designed and created by passionate and innovative connected educators from every province and territory in Canada.
* Guidance, support, and leadership will be provided by educators and community leaders from within the Francophone community, and the 3 Indigenous Nations: First Nation, Métis, and Inuit (FNMI).
* Volunteer Provincial and Territorial Ambassadors will provide project leadership for teachers in their own local area.
PROJECT COMPONENTS:
* All teacher accounts, interactive mapping components, data storage, and tech support are being provided by Esri Canada.
* Assistance creating an official Canadian Teacher Registry is being provided by the Digital Human Library.
* Financial support is being sought a variety of sources including the Canada150 Fund, Aviva Community Fund, and Community Foundation of Canada150 grants.
PROJECT ACTIVITIES:
* All services, time, materials, and expertise to date have been generously donated by individuals, organizations, and businesses from across Canada.
* As an official sponsor of this project, the Canadian Education Association is generously providing in-kind donations of expertise and services in the area of promotions and communications across Canada.
* A growing list of organizations, businesses, and individuals have offered their support and assistance to help develop, promote, and manage the project across the country:
* Digital Human Library
* Canadian Geographic – Education * ABEL Program, York University * MindShareLearning
* Fair Chance Learning
* Microsoft Canada
* Holly Painter, Spoken Word Poet * Aaron Doering, LTMediaLab
* TakingItGlobal
* iEarn Canada
* Marathon Learning * Dadavan Canada
* and others yet to be officially confirmed…
4. PROJECT DETAILS
Please Note:
All elements of this project will be provided in both English and French, with direct support being provided by English, French, and FNMI Co-ordinators to teachers and students within these respective communities.
PART ONE – COMMUNITY INTRODUCTIONS by STUDENTS REGISTRATION for PROJECT ACCOUNTS
* Teachers will register for the project using their official school email address.
* A project account will be provided to every Canadian JK-8 teacher through the generosity of Esri Canada, Canada's largest mapping company. Esri provides free mapping software and free online accounts to every K-12 student and teacher in Canada.
* No prior knowledge of mapping is required!
* To ensure digital safety for students, only teachers will have access to project accounts.
CREATION of CONTENT by STUDENTS:
* Beginning in January 2017, students from JK-Gr 8 in every school setting and community in Canada will be invited to introduce the land and people of their communities to Canadian children across the country. These introductions can be created in any format teachers and students choose — photographs stories artwork cartoons interviews songs poetry plays walking tours videos webcasts podcasts etc.
* All content must be created BY students and FOR students.
* Photographs of artwork and other handiwork will be required for online use.
* To protect student content rights and personal identities, all student content will require a Creative Commons copyright, with examples and instructions provided.
POSTING CONTENT to the Project Website:
Note 1: Text and video instructions for all steps will be provided, with additional assistance available upon request.
Note 2: Teachers who are unable to post their student content for some
reason may also email it to project organizers who will post it for them.
* Teachers will locate their school on the map of Canada and create a class "pin".
* Teachers will post their student content to a site of their choice:
– a class page on the project website – a school website
– class blog
– class wiki, etc.
* Videos must be uploaded to any – YouTube, Vimeo, etc. free online video hosting service
* Teachers will create a link on their pin to their student content, providing basic identification tags: location, grade level type and topic of content, etc.
* Changes and additions to class pins can be made until June 30th, 2017.
* June 30th, 2017 – contributions to Kids' Guide close.
This multilingual "Kids' Guide to Canada – By Kids, For Kids" will remain online to help children learn about the land and people of Canada for years to come.
Teachers and classes can choose to stop here, or continue to participate in Part Two of the project.
PART TWO – CROSS-CANADA CLASS CONNECTIONS:
* Teachers will register on a new Canadian Teacher Registry hosted by the Canadian Digital Human Library.
* Teachers will use the registry to search and locate other teachers across Canada who would like their students to connect and collaborate on learning activities of their own choosing.
* Teachers and their students will explore the topic of Canadian stereotypes before connecting with other classes across Canada. Suggested age-appropriate activities will be provided.
* Teachers and classes will connect across Canada, and engage in a wide variety of national conversations, learning activities, collaborative projects, etc. Suggested activities will be provided.
* Classes will be invited to participate in a variety of special activities and events organized and managed by student volunteers according to grade, location, or topic. For example:
* Canadian Trivia Challenges
* Twitter Chats
* Photographic Challenges
* Mystery Class Challenges * Cross-Canada Student Polls
* Special webcasts will broadcast by students in remote locations to help ensure that all students have at least one opportunity to hear from students in each distinct area and culture across Canada.
* A culminating video will be created to share the exciting contribution of Canadian JK-Gr 8 students to Canada's 150th birthday celebrations and to the future of Canada.
* July 1st 2017: video will be published online and presented to Canadian officials in Ottawa.
The new Canadian Teacher Registry will continue to be available on the Digital Human Library website to help connect Canadian teachers and their students for years to come.
GET INVOLVED:
Join us to create a new culture of mutual understanding, empathy, and respect for all Canadians – connect with A Kids' Guide to Canada today! Contact information included below.
We are also looking for passionate educators who would like to take on positions of added responsibility. More information is included here: 
Provincial/Territorial Teams Needed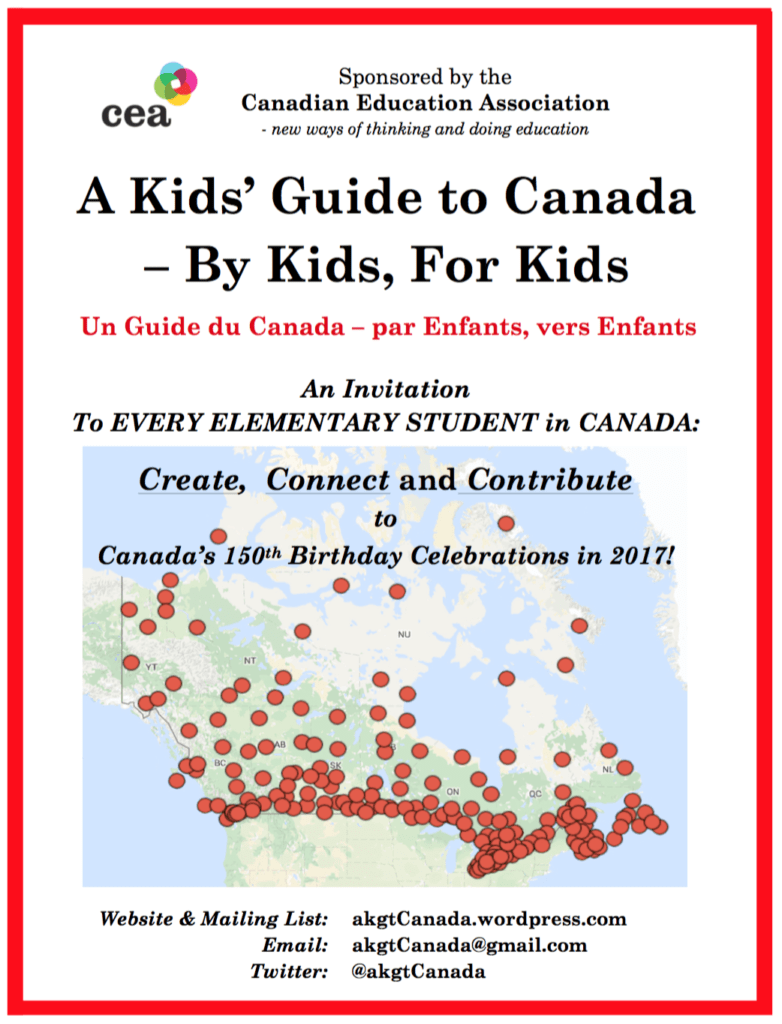 This post is also available in: French